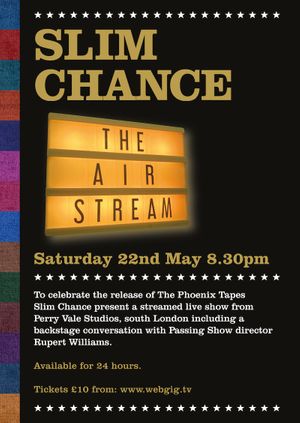 Slim Chance - The Air Stream
22nd May 2021 20:30 - 22:15
This is a live-stream event
Add to Calendar
Event Details
Slim Chance celebrates the release of their new album, The Phoenix Tapes with a streamed live studio set and backstage conversation with 'Passing Show' director, Rupert Williams. 
This is a broadcast quality production with multiple live-switched cameras and studio-grade audio. It's going to be awesome!
The whole show will be transmitted from Perry Vale Studios - including the post gig chat - and will be available for 24 hours after transmission.

Get your tickets now. Please remember to check all junk email for your live stream link.
If you would like to buy the new album - The Phoenix Tapes - please visit the Slim Chance Website.